When it comes to your success, how does your age contribute to your chance of achieving it?  Is there an age factor?
Some of the most successful stories of Entrepreneurs are about young go-getters who had a vision at an early age and gained wealth.  Full of energy, vision and determination, it is easy to weigh in on why Entrepreneurs who start young have a better chance of success.
Ashley Qualls was just 14 when she founded WhateverLife.com.
Sean Belnik at the age of 16 and with just $600, started his Entrepreneurial journey. He started trading cards then moved into furniture founding BizChair.com.  By the time he was 20, he was already worth $24 million.
When he was 15, Adam Horowitz decided he wanted to make his first million by his 21st He reached his goal as a developer of Mobile Monopoly.
Founders of Google, Sergey Brin and Larry Page were both 25.
Steve Jobs was 21 and Steve Wozniak was 26 when they both founded Apple.
Bill Gates was 20 and Paul Allen was 22 when they both founded Microsoft.
Famous Mark Zuckerberg was only 20 when he founded Facebook.
Tim Sykes used his Bar Mitzvah cash with his first investment. By the time he was 21, he was worth more than $1.5 million.
What do these Entrepreneurs have in common besides starting young?
Before we answer that, let's look at the other side of the Age Factor.  We can find just as many stories of people who achieved success later in life.
"As human beings, our greatness lies not so much in being able to remake the world – that is the myth of the atomic age – as in being able to remake ourselves. "

Mahatma Gandhi
Donald Fisher co-founded Gap at 41
Lynda Weinman co-founded Lynda.com at 40
Herbert Boyer co-founded Genentech at 40
Bob Parsons started GoDaddy at 47
Chip Wilson began Lululemon at 42
Charles Ranlett Flint launched IBM at 61
Bernie Marcus co-founded Home Depot at 50
Bill Porter started E*Trade at 54
Robert Noyce co-founded Intel at 41
Chaleo Yoovidhya was 61 when he found success by starting his own company, TC Pharmaceuticals. His net worth?  $5 billion
Stan Lee, famous for founding Marvel Universe was 39 when he began to create many of Marvel's major characters.
Ray Kroc was 52 when he purchased McDonald's.
The only factor age plays when it comes to your chances of achieving success is what you decide It will be.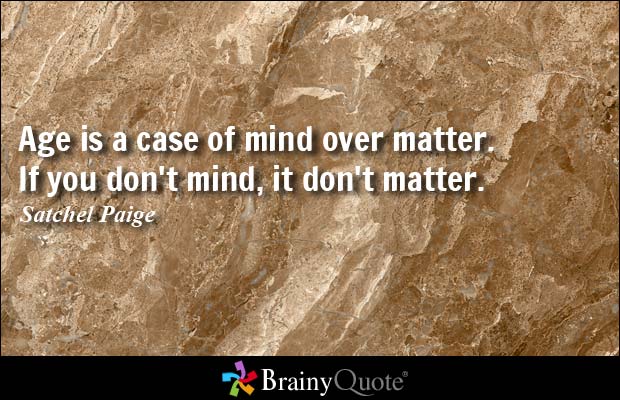 Your biggest obstacle is the one you decide it will be.  So decide today, no matter what age you are that you will let nothing stop you from going after your goals.
Commit to becoming a life long learner and let your investment in yourself be your biggest investment.
"Anyone who stops learning is old, whether at twenty or eighty. Anyone who keeps learning stays young. The greatest thing in life is to keep your mind young. "

Henry Ford
Don't wait for when circumstances are right because chances are that day will never come.  Start today on your journey and keep moving forward.  Don't let anything stand in your way, not even your age.
Our lives can get pretty hectic and it can be easy to get lost in our actions. When we are so focused on what is ahead, we forget to pause, reflect and find ways to energize our minds. These 5-minute motivation posts are meant to give you that recharge. The goal is to give you a 5-minute Vitamin for your mind through quotes, posts and videos. It is also meant to challenge your thinking and inspire you to take action.
Don't miss out on any posts! Subscribe to the weekly series of #5minutemotivation. Click on the link on the left to get started, or the image below.