This article was originally published at Enplug.com
Get noticed with the right digital signage content creation tools
Digital signage content can help you get your message out, but it only has an impact on your business and team if it's relevant and compelling. Luckily, turning your content strategy into memorable visuals that get noticed doesn't have to cost a lot or take hours of your time.
Want to know the secret to creating great content, even if you don't have a graphic designer on staff? Use the right tools. That's why our list of 28 digital signage content creation tools is a must-have for anyone managing screen content.
There are also several free graphic design tools available to help you get noticed.
Types of Signage Content
You probably already have some of these content tools but have never thought of using them for screen content. Others are free and low-cost applications that take the headache out of creating original content like videos, graphics, web pages, analytics, and social media. And others help you repurpose the content you use elsewhere to share it in a screen-friendly format.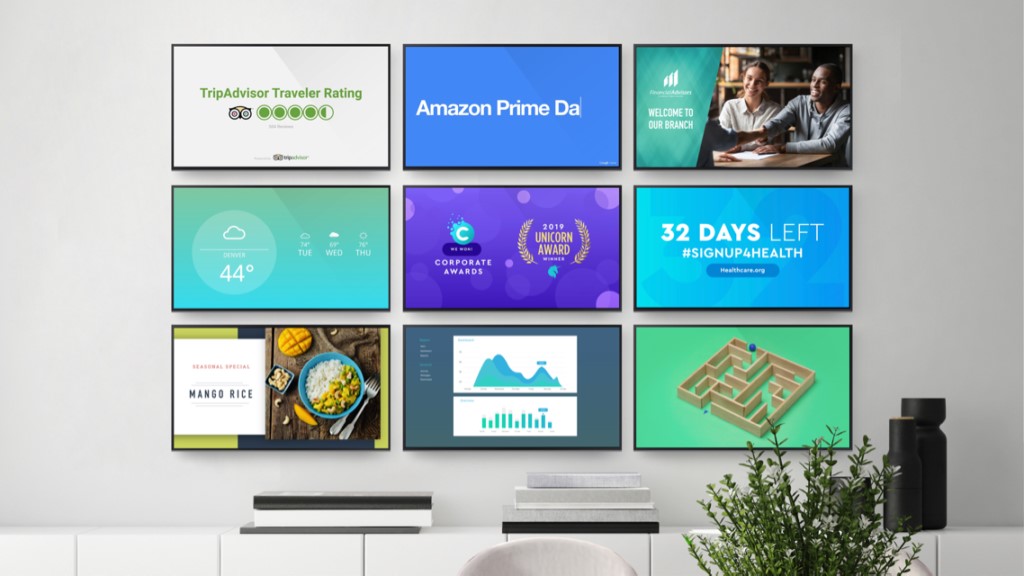 Static & Dynamic Brand Content
Whether you start from scratch, use templates included with your software, or prefer online image and video editing tools, it's easy to create a sign that captures your message. Static content like graphics and videos do not change after they are uploaded to your displays. Dynamic content automatically changes based on factors like time, weather, and location.
Curated & Aggregated Content
Creating new content exclusively for a TV screen doesn't have to be time-consuming. And yet, communicators know that curating existing content leads to a higher return on investment. The latest digital signage integrations make it easy to display content from social media feeds, websites, and more.
Interactive & User-Generated Content
Screen content should capture the attention of your audience. So why not involve them in the content creation process? Interactive content changes based on user input to deliver highly relevant messaging. User-generated content is created and submitted by your audience.
Image Creation & Editing Tools
Turn any idea into an attractive sign with tools that can tweak images, add text, and more. There are great video editing software options available.
1. Canva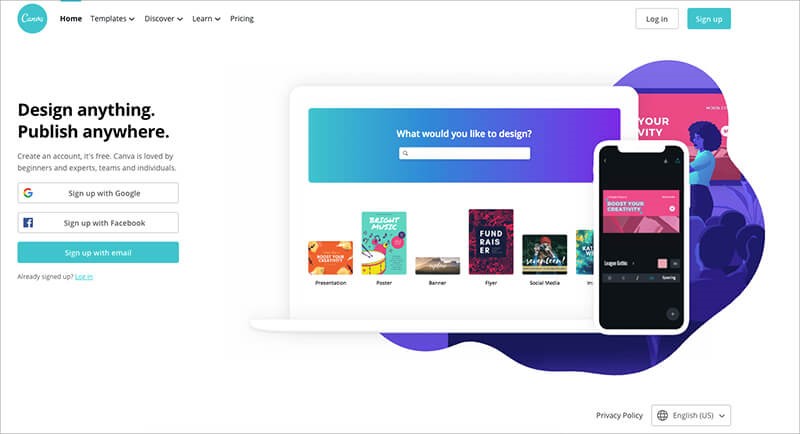 Export your Canva designs to share them on TV screens around your business.
Canva is an intuitive web-based tool that you can use to design for all of your marketing needs. Part of the reason it's so popular is that anyone can use it. Use our Canva Tutorial to get started with ads, flyers, and social media posts. Depending on the size and orientation of your TV screens, you can set the aspect ratios to fit 1920×1080 for landscape and 1080×1920 for portrait.
2. VSCO for iPhone and Android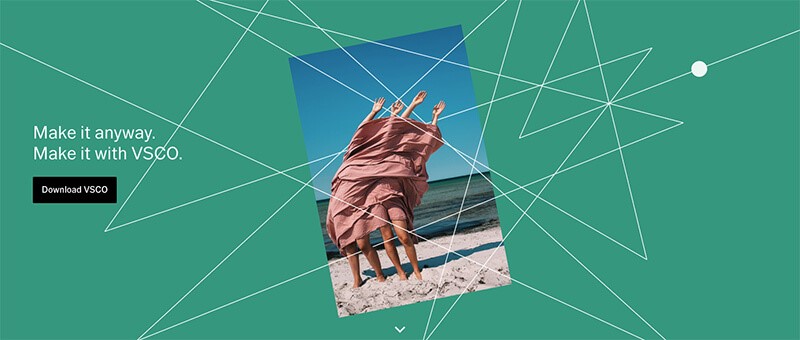 Use VSCO to edit photos for your displays.
VSCO is a powerful mobile app you can use to easily edit photos for professional quality images. The filters in VSCO are much more natural than other editing apps which makes them perfect for digital signage content creation and give you more control over the manipulation of your photos. Export your edited photo from VSCO to upload it to your digital signage platform.
3. Adobe Photoshop
Whether you take your own photos, hire a professional, or use stock images, you'll want to make sure they look right for your brand. Photoshop is an advanced tool that will let you do everything from remove objects in a photo, to change out the background color of an image.
If you don't already have this program and you want to invest in it, you can purchase the Adobe Creative Cloud Photography plan for $9.99 a month. With Photoshop, you can export your work in any number of signage-friendly formats.
4. Pixlr
Pixlr is a free web-based platform that offers similar features to Photoshop. You can download the mobile app to directly edit the photos you take for your digital signage.
5. Place It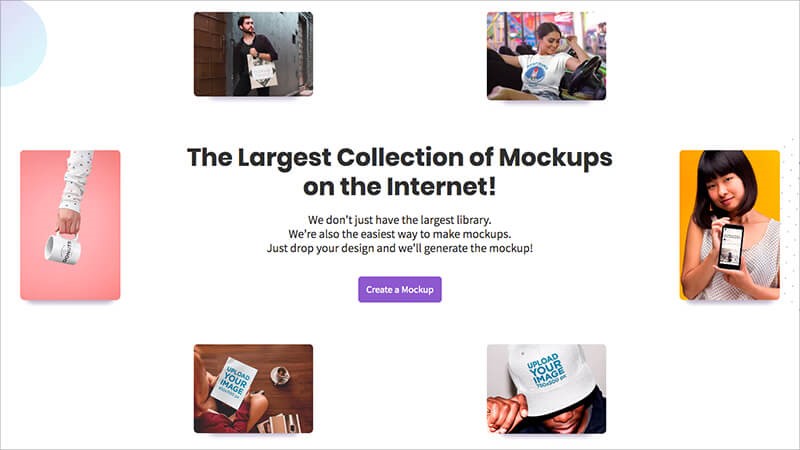 Try Place It for easy mockup creation
Showing potential customers what it will look like when they use your product helps them envision its use and is an effective psychological marketing tactic. Place It, a stock image platform that allows you to easily drop your business images into devices like iPads, iPhones, and Mac screens in stock images, lets you do just that. Export your images and use them in your digital signage.
6. Edit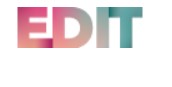 EDIT is the online tool used by thousands of businesses like yours. Online editable designs, adapted to the needs of your organization. Professional results as if you had a designer on your team!
Bonus Tool: Stock Photo Sites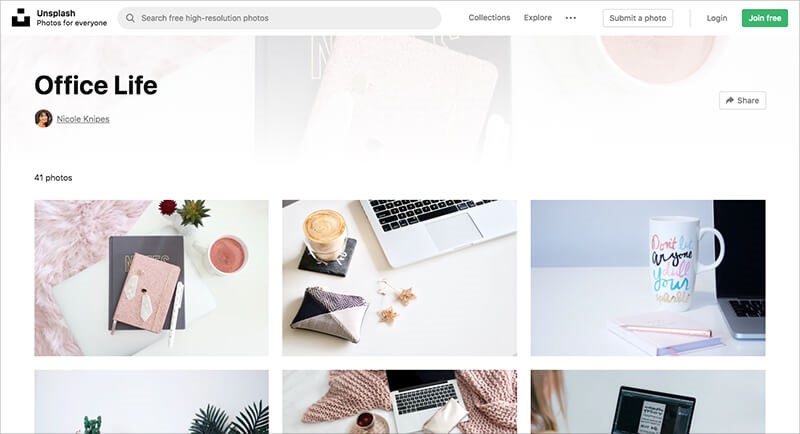 Find beautiful images on Unsplash, a free stock photography site
Sourcing photos can require extra time, but using stock photos is an affordable (or even free) alternative to taking your own or hiring a professional. When you purchase a stock image, you gain the license rights to original professional photography. You can also take advantage of straightforward free Creative Commons licensing. Just be sure to check the attribution terms.
Paid stock image websites:
● iStock
● Adobe Stock
● Shutterstock
Free stock image websites:
Presentation & Chart Tools
6. Powerpoint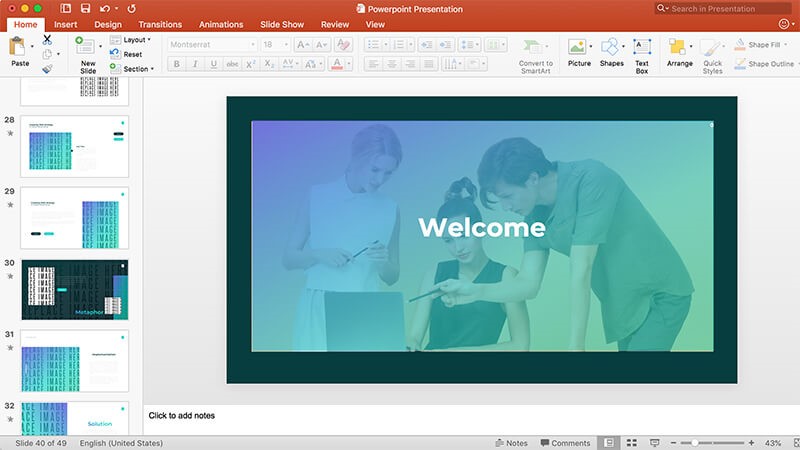 Try Powerpoint if you're already familiar with the software
If you prefer the simplicity of classic Microsoft tools, Powerpoint will let you create designs in a setting you're most likely familiar with. Export a single static slide as a JPEG or PNG. To show off text transitions and embedded content, export your slides as video files.
7. Google Slides
Google's free cloud-based presentation maker is an easy way to create content. For example, build digital menu boards, graphics to announce special promotions or signs that celebrate a team member who has gone above and aboard. With the same functionality as Powerpoint, you can download the slides from Google Slides to share them on your TV screens.
8. Prezi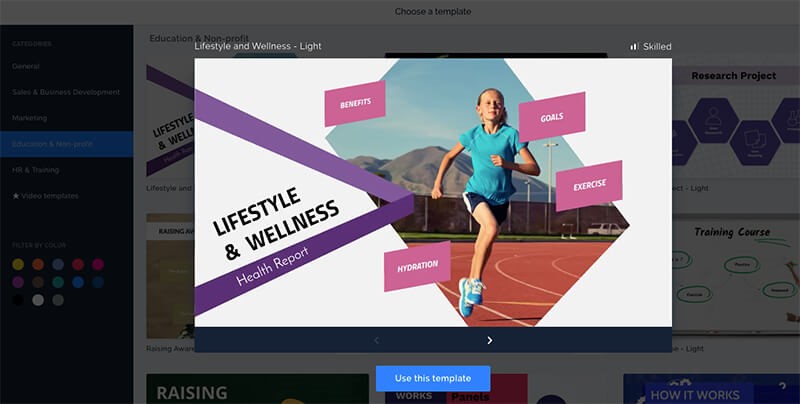 Move seamlessly from one presentation element to the next with Prezi
You can get much more creative with Prezi, an alternative tool to Powerpoint and Google Slides. Working in one large canvas in Prezi allows you to pan and zoom. Zoom in on each detail and add emphasis to points in your presentation.
When you're finished designing, share your Prezi masterpiece via a link that can be uploaded to your digital signage.
9. Venngage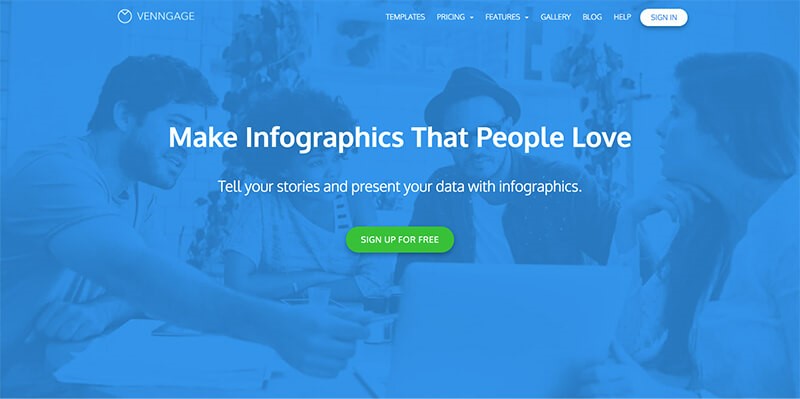 Visualize your data with Venngage
Venngage is a popular option that helps anyone visualize and share their data in a beautiful way. With a built-in brand kit, it's even easy to make sure all your designs are consistent. The free option gives you access to many of the tool's key features, but if you want to change the size of your design or other advanced options, you'll need to upgrade to a paid plan.
10. Visme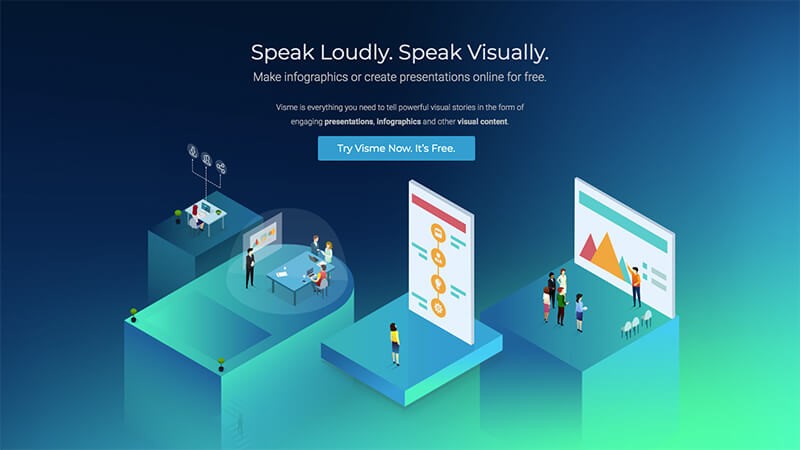 Turn your data into presentations with Visme
Similar to Venngage, Visme offers a solution for transforming data into compelling presentations. According to the product's documentation, it distinguishes itself from the competition with even more templates and advanced features like animation.
11. Google Drawings
A free Chrome add-on, Google Drawings makes it easy to create charts and diagrams to display on your digital signage. You can use these in conjunction with any data tools you use to communicate metrics to your employees. Plus, the flow charts and graphs can be easily inserted into other documents or embedded into a website.
12. Piktochart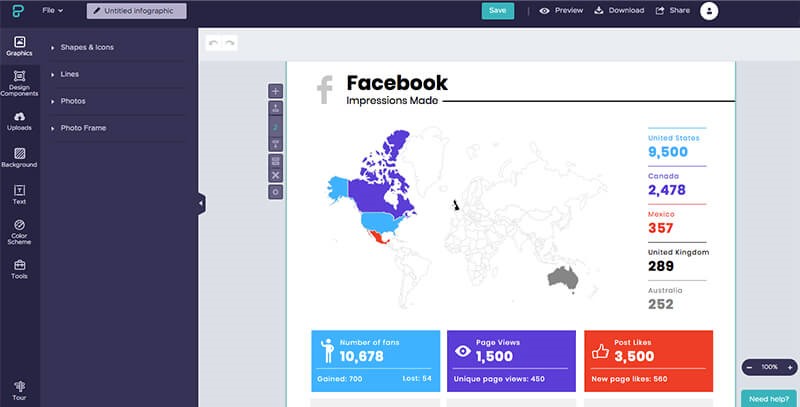 Create attractive infographics with Piktochart
Piktochart makes it easy for content creators with limited design skills to create compelling infographics, charts, maps and more from their data. To get started all you need to do is upload your data, then choose from the many customization options. Export your design to share your final product.
Video Creation & Editing Tools
Video is a powerful format for digital signage, but creating it doesn't have to be complicated. These are all great video editing tools and will let you edit and export videos for upload to your digital signage platform.
There are so many creative options available with video. One tremendous opportunity for your business to tell a compelling story is to create a video wall. They don't have to be complicated, or an expensive option.
13. iMovie/Windows Movie Maker
Whether you have a Mac or a PC, your computer likely came equipped with a video editing tool that you can use to make simple videos. Add text, logos and even retouch the color on your footage with these tools.
14. WeVideo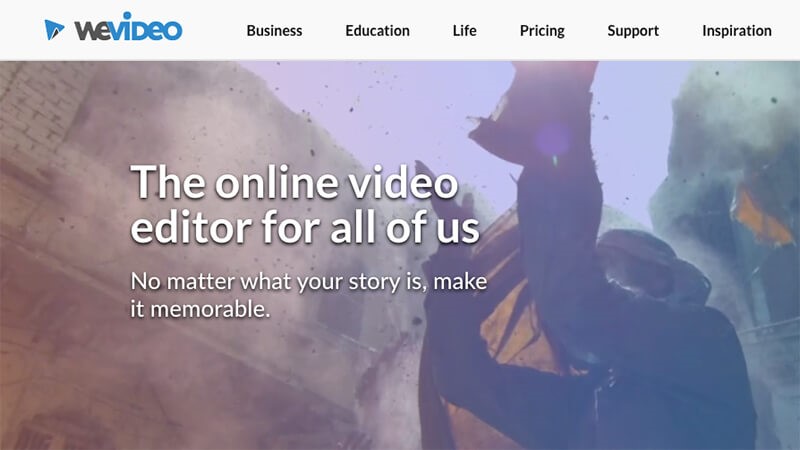 Collaborate with your team on video projects using WeVideo
WeVideo is a cloud-based software that lets you collaborate with your team on video projects. You can shoot, upload and edit videos from anywhere and your entire team can access the files during all stages of your project.
15. MotionBox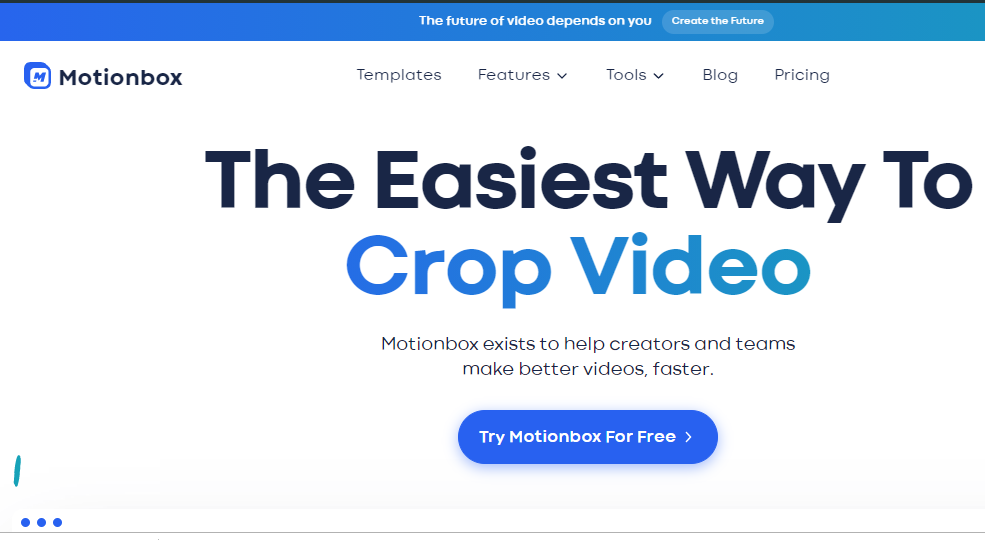 Motionbox is quite easy to use, thanks to its drag-and-drop interface that brings creativity out of its users. With features such as music visualization, GIF editor, video trimmer, and video calendar, it offers an unlimited possibility when it comes to design.
16. Colorcinch

ColorCinch's Photo Editing Software is not only simple to use but has all the editing tools you need to create professional editing tools. It uses a simplified platform and it makes easy to achieve stunning results. I used their all in one platform and was surprised at how simple it was and was impressed with it's results.
Some of their options are:
Essential editing tools
Effects & cartoonizers
Free graphics and templates
For the remaining digital content creation tools, see the original post on Enplug.com