Home should be your fortress, a place that you can go to and unwind and spend time with loved ones. Our home dynamic has shifted dramatically due to the pandemic. People have been separated from the ones they love or locked up with them for most of the day — neither is ideal.
This has also affected our work environment, during the summer it was estimated that around 40% of our workforce was working remotely. Those who weren't working from home before are having to deal with the effects of having their home and work life collide. There is a great deal of importance in having a solid separation between the two worlds. And though our world (in its current state) isn't ready for us to return to the office, there are still ways to create that separation in our own home.
One aspect that can make a huge difference is having a separate workspace. If you don't have the space for a home office in a closed-off room, you aren't alone. A Rocket Mortgage survey found that only 43.2% of people have access to a private home office space.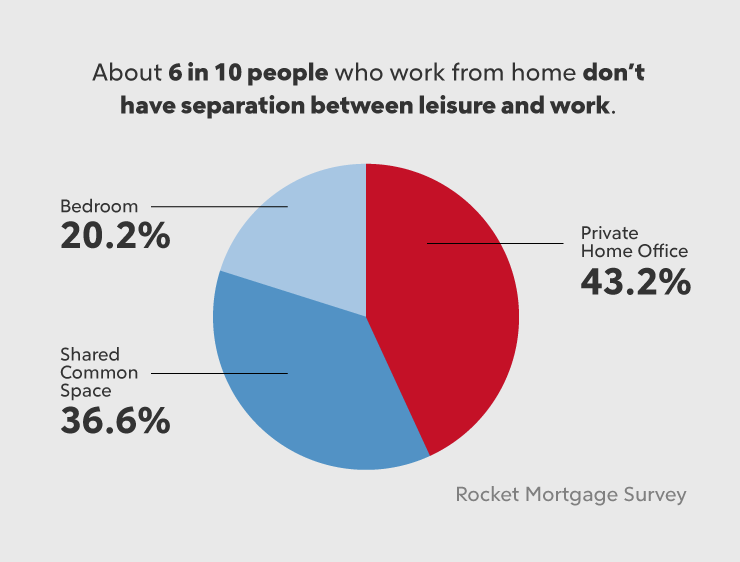 There are still ways you can create a feeling of separation between work and home life. Try getting ready in the morning as if you're going to work. Take a short walk as your "commute," should help you transition into a working mindset. When the workday is over, take another walk as your "commute" home. Once you've commuted home, make it a rule to not check work emails or log on to your computer. 
You can also put up temporary room dividers to corden off your space, just make sure you still have plenty of natural light. Try surrounding yourself with greenery and add other features that remind you of nature. Move the position of your desk if you can face it towards a nice view (ideally a nature view).
Overall, the topic of homebuying could seem complex to navigate. One of the most important steps is to find a reliable and efficient mortgage lender to get assistance with the entire process. The editorial team at Money put different mortgage lenders to the test and laid out what they offer so you can start your home buying journey informed and ready to go.
See some additional tips below to improve your WFH environment and your overall well-being: