From management decisions to navigating the difficulties of jet lag to sticking to their work-outs, we've consulted today's top women entrepreneurs to learn their best travel hacks. With finesse, these women have managed not only business success but have seamlessly integrated travel into their lives.
Whether that includes packing it up for a week-long work trip or vacationing in a new exotic destination, these tips can get you to wherever you want to go.
 Whitney Wolfe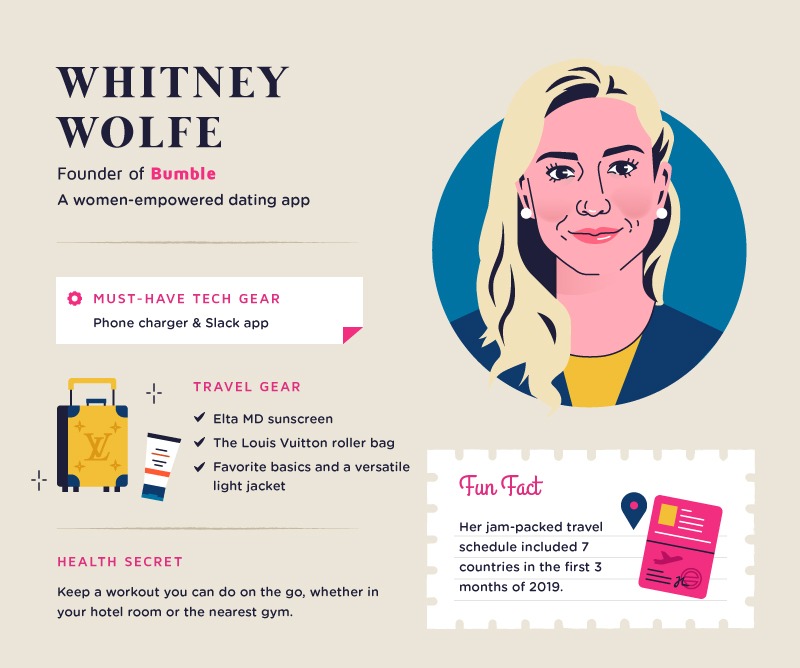 This seasoned traveler found herself in 7 different countries within the first 3 months of this year.
You might know her better for her connection with the social app Bumble. It's an app where women decide to make a move (or not), much like founder Whitney has been doing throughout her life.
Originally a key player in marketing Tinder, her history there led to the conception of this female-empowering dating app. With Bumble, women are in control of forming relationships of all kinds: romantic, platonic, or even business-related.
Some of her top travel tips include keeping an on the go workout and packing solid basics that can fit any occasion. While busy traveling for work, she always makes sure to keep time in her schedule to quench her own wanderlust.
Serena Williams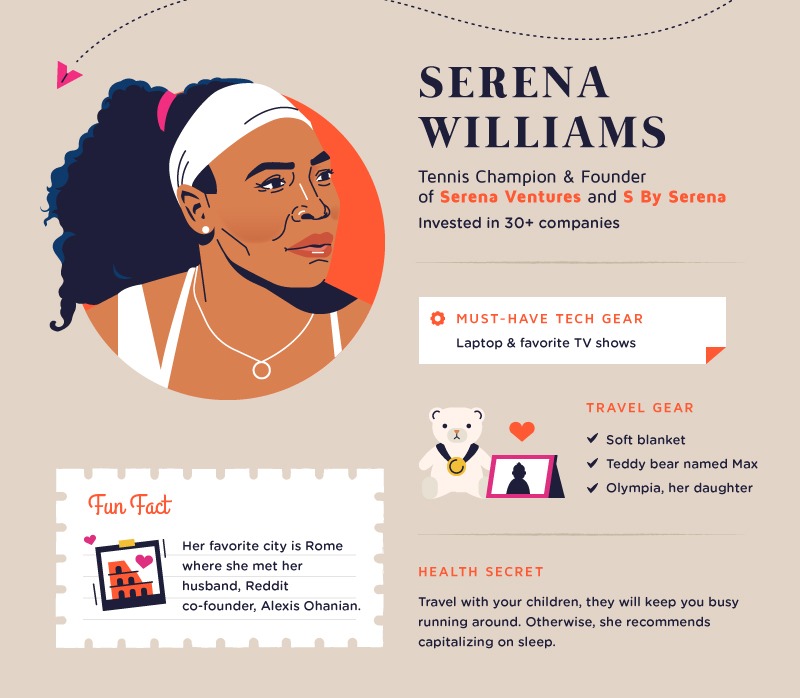 From being flown straight to Venice, Italy one night when she was craving Italian food (#husbandgoals) to flying worldwide to collect more Grand Slam titles, Serena Williams is not just a champion of Tennis but travel too.
Now, after the birth of her daughter Olympia, she is having to readjust her routine a little. Between motherhood, tennis championships, promoting her new fashion label and even learning to code on the side, we still aren't quite sure how she manages.
What we do know is that traveling with her daughter Olympia is the new norm. She sees it as a great opportunity to learn, not just for her daughter but for herself. That being said, her travel hacks circulate around comfort: from a soft blanket to a Build A Bear Teddy, who goes by the name of Max.
Payal Kadakia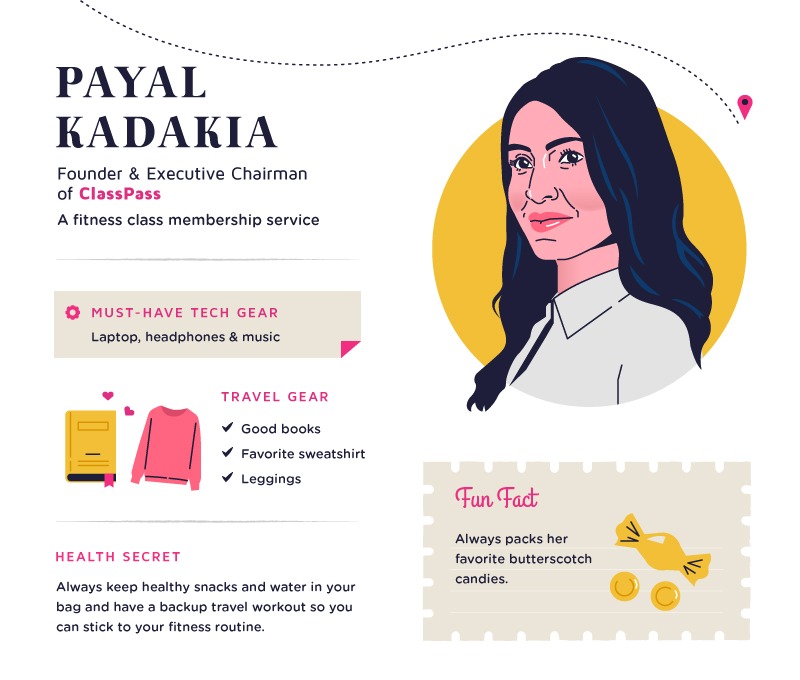 If you are fretting about how to adhere to your exercise routine while traveling, entrepreneur Payal Kadakia is thinking of you. She herself spends about one-third of every month on the road.
Payal is the founder of the revolutionary fitness app ClassPass. This app provides an easy solution to fit in workouts while avoiding the whole sign up process. A perfect solution for frequent travelers or simply for those interested in trying out different types of fitness classes. Currently, classes are offered in over 22,500 health clubs located in 18 countries.
While she travels, she always keeps music or good books handy. That way she can have a few zen moments before she gets back to work spreading her digital fitness platform to new cities and countries.
Jen Rubio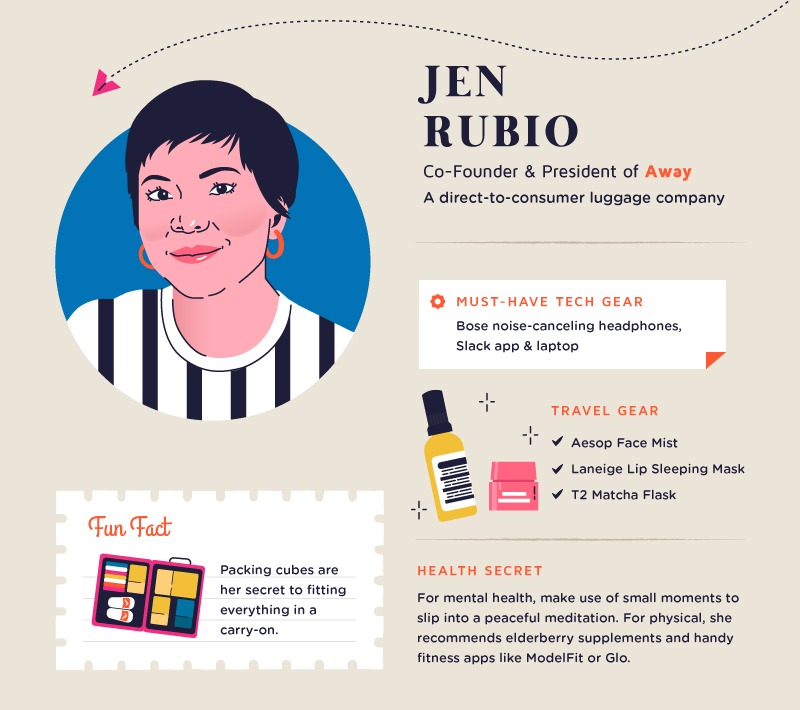 It all started when Jen Rubio called her friend Stephanie complaining about her broken luggage. What she didn't know was that before long she would be traveling every other week to build her own brand focused on providing a solution to this problem.
The solution is Away, a luggage brand touted for its incredibly lightweight and well-designed luggage. As co-founder and President of Away, Jen spends most of her own time as a traveler working to make life easier for her fellow travelers.
Her secret to traveling is simplicity. She sticks to a single carry on and a few key essentials to keep her in tip-top shape. For example, she packs elderberry supplements to strengthen her immune system and a simple face mist to stay refreshed.
Caryn Seidman-Becker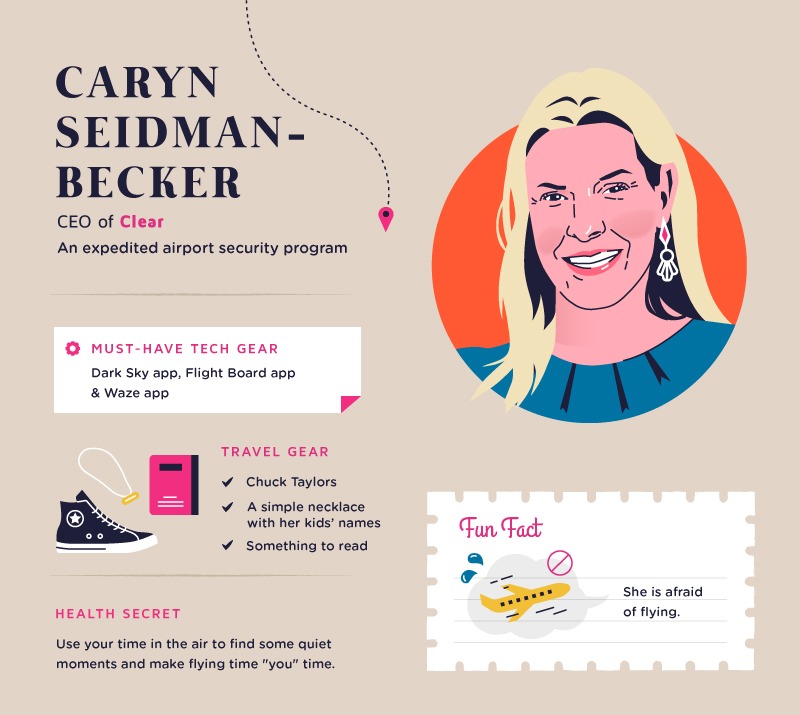 Transporting us into the future of travel and abandoning the paper-based system is Caryn Seidman-Becker's entrepreneurial objective.
She is the CEO of CLEAR, a platform working to convert our unique features, like eyes and fingertips, into an encrypted code. This allows each individual to, simply put, be his or her own ID. Her primary goal is to make travel safer and more efficient.
With her own personal fear of flying, this rests an important cause for her. So it's not surprising that her travel hacks gravitate towards feelings of safety. She advises keeping keep something analog and something meaningful with you when you fly. For her, that usually means a book or something to read and a necklace with her kids' names.
Ruzwana Bashir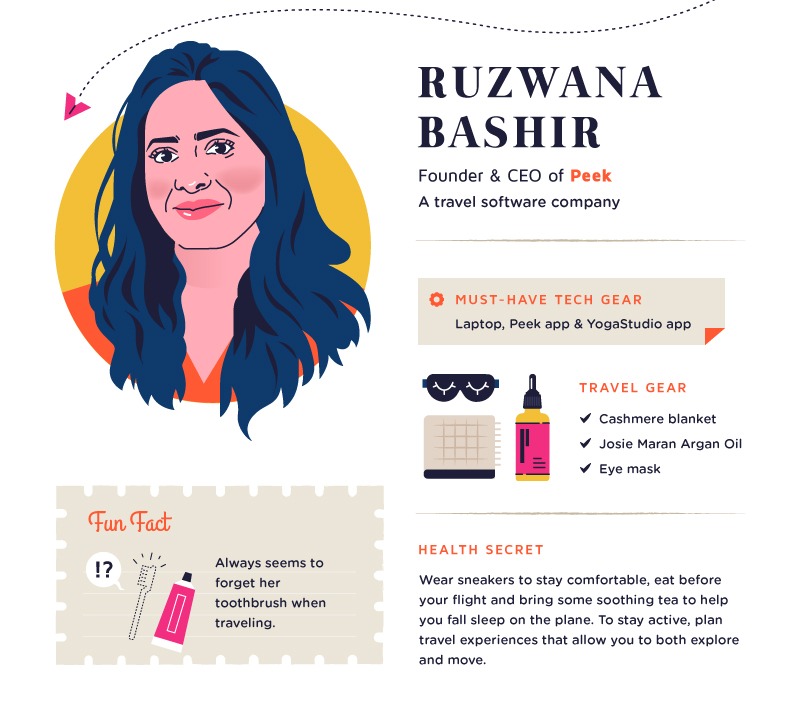 Here is a travel enthusiast at the core. Having visited over 40 countries in the world, Ruzwana Bashir was on a trip to Istanbul when the idea for Peek came to mind. She was looking for a way to book an adventure and found it much more complicated than it should be.
So, this former private equity executive created Peek. Peek is an application that provides travelers a collective list of activities to do when exploring new places. The app provides the ability to easily find boats and cruises, workshops, sightseeing tours and water sports, and more. Additionally, this booking platform serves not only travelers but businesses as well by providing a user-friendly tool to book adventures and experiences.
You can trust that her expert travel hacks are well tested and keep her ready for her next travel adventure.
Mariam Naficy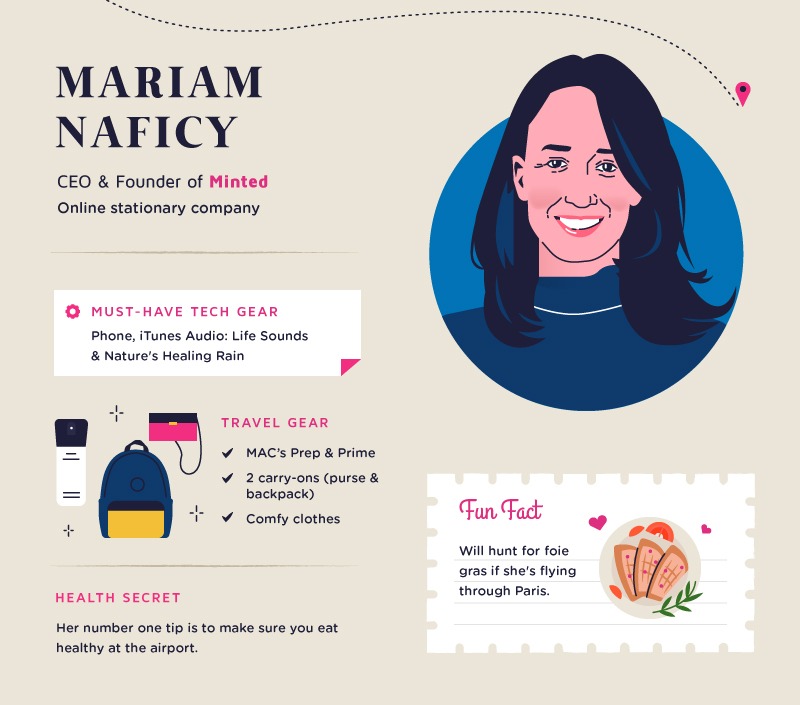 Mariam Naficy is an American entrepreneur who is the founder and CEO of Minted, an online design marketplace. With a business model based on paper and design, she's had her work cut out for her.
As a pioneer in e-commerce, her time is largely spent keeping up with the latest digital trends and maintaining relevance in a constantly changing consumer environment.
Between 2 kids, an insane weekday schedule including constant travel and a lifetime of moving (her Iranian father worked for the UN),  Mariam is well-voiced in the finesse of managing moving pieces whether for necessity or pleasure.
When she travels she keeps it low-key. Hoody, sweatpants, and wool socks are her usual attire. She then makes sure to pack only essentials that will fit in her backpack and carry on.
Arianna Huffington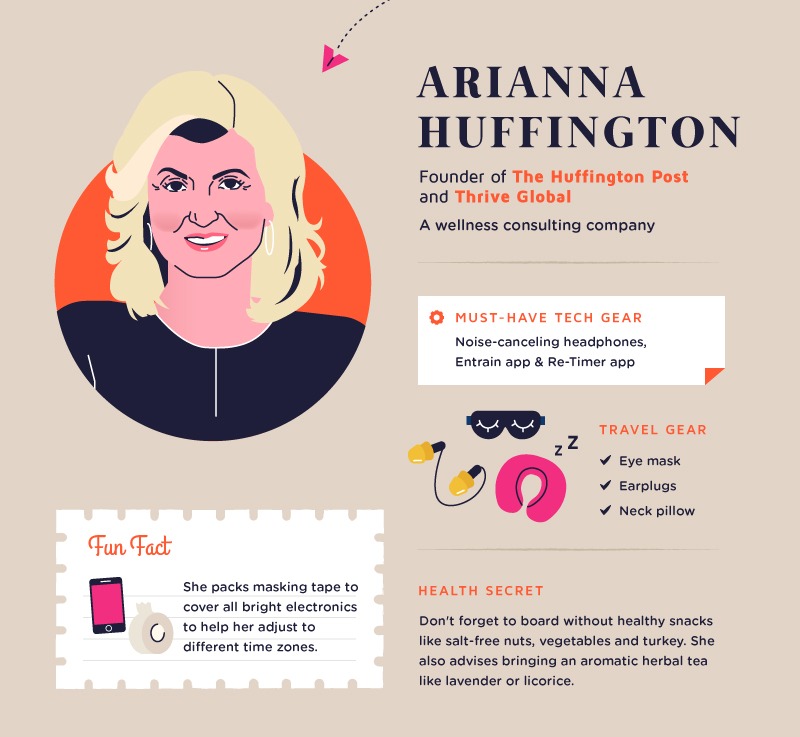 Last, but certainly far from least, is Arianna Huffington. She is the founder of The Huffington Post, the founder, and CEO of Thrive Global, and, on top of that, the author of fifteen books.
An icon of the American press, this Greek-American has traveled not just from Greece to America but everywhere in between and beyond. Between running the prolific Huffington Post and founding Thrive Global, she knows the ins and outs of balancing life and travel and avoiding burnout.
For her, sleep reigns supreme. She packs calming teas, noise-canceling headphones and this essential trio: an eye mask, earplugs, and a neck pillow. We especially love her hack for packing masking tape.
This post was originally published on Runaway Suitcase