I get a lot of emails.  To manage them, I have an email for several different accounts; work, blogging and personal.  There are some emails I skim through quickly, while others I ensure to read every line.  Michael Hyatt's emails are those emails I tend to pay particular attention to.  Mostly, because he covers the topics I am most interested in; productivity, personal development and leadership.  I also find that I get a return from everything I absorb from him including his course that I enrolled in, "Best Year Ever", early this year.  It really helped me to plan out the year and make it extraordinary.
I recently received an email from Michael promoting his new free e-book, "Achieve What Matters in 2017:  8 Strategies Super-Successful People are using now to accomplish more next year".  Before I go any further, I want to stipulate that I am not an affiliate, nor receive any benefit from sharing the link except the intention to add value.  I am just a fan.  This e-book was a reminder to stop and reflect on my strategies.
As we come close to the end of the year, I find myself pedaling to finish off the projects I still have to do.  Not to mention being a Director of Sales in Retail, this time of year is particularly busy.  Michael's email, challenges readers not to implement all 8 strategies but to focus on just one for a whole week.  I laughed when I read that because I tend to get all gung ho and want to try everything.  Then I realize that everything at once tends not to work as well.
As John Lee Dumas likes to say, Focus is about:   Follow One Course Until Success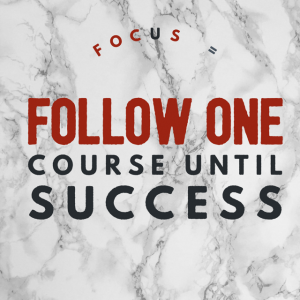 Although I believe I multi-task better than a lot of people I know, I am more effective when I put all my energy into one thing at a time.  Multitasking is not a driver of productivity.
Among the 8 strategies that are highlighted, I chose to start with the first one, "Reflect on the Past Year".
Do you start your day, month, quarter or even year without taking the time to reflect on what worked and what didn't?  In order to plan a great year, you need to start with a review of the current one.  This practice also applies to planning your Quarter and even your day.
I took on the challenge and realized where my misses were but also where I succeeded.  I did this exercise for every area of my life: Family, Relationships, Financial, Work, Blogging, Health and Spiritual.  This made it easy to zero in on what I needed to focus on for the upcoming year.  It also allowed me to reflect on the areas I fell particularly short in, Financial and Health.
This exercise undoubtedly will help me build momentum as we close off the year.  It allows my goal of achieving an extraordinary year to be clearer than if I didn't take the time to perform this exercise.
Although I read the e-book in order, the other strategies I will focus on will be in a different order.  Now that I have reflected, I can focus on the next strategy until I have implemented all 8.
Here are the first 5 Strategies that I will Focus On to Achieve an Extraordinary Year:
Reflect on the past year
Done
Set compelling goals
Break it down
Schedule the Year
Unplug for a time
Have you read the e-book?  If not, I recommend it.  It is a short read but filled with tips from successful Entrepreneurs.  Which strategy will you implement first?