Yes! The chief muckety muck at the office approved a remote work schedule! Pretty soon your work attire will be your pajamas! But the bosses put you in charge of managing your offsite employees. What are the best tips and tools for working with remote teams? Here are some of our favorites.
Establish A Remote Employee Policy
If you're just starting up a remote team, it's a good idea to have a remote employee policy in place before you start hiring. It takes drive and discipline to work remotely, and frankly, not everyone can do it. TechRepublic suggests these remote worker policy points to consider.
How will you train your remote team? Providing meaningful learning experiences gives people a learning path in which to grow in your company. Use a simple approach to training development to identify the needs of your team and rapidly prototype content to meet these needs.
There are also several ways that you can create an online course for training, allowing you the advantage of repurposing the content for more than one employee.
Who can work from home and when? Determine what positions can be worked remotely, and what those work hours will be.
How quickly are you expected to respond? Five minutes for texts? An hour for Slack notifications? A day to reply to an email? Establish the ground rules upfront to avoid problems later.
How will productivity be measured? Are your remote employees punching a time card? Will you measure their performance by hours logged, completion of projects, or some other factor?
What equipment does your remote team need? We get more details below, but it's reasonable to expect remote employees to have a computer, smartphone, a reasonably well-maintained multifunction printer, and Internet access. But will your company pay all or part of those costs, or do they fall on the shoulders of the employee? Who is going to pay for those expensive replacement ink and toner cartridges (although you can always sell your surplus toner, it still costs a considerable amount of money to buy them)? Also, bear in mind the IT needs of your remote team. What will it take to get it up and running, and keep it going? Don't forget about password security and client confidentiality!
Like you would do if hiring a remote team in person, ensure that you create online contracts with each new employee.
What happens if you need to terminate an employee? Put rightful termination clauses in writing, and make sure potential employees are aware of them upfront.
Communication Is Key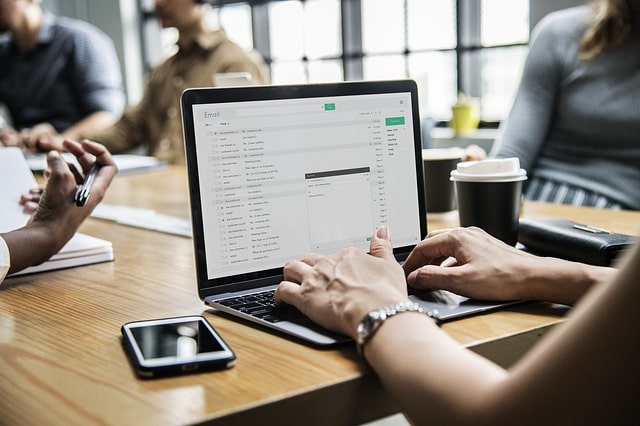 Communicate with your remote workers daily, at a minimum. Let them know they're an important part of the team. Email, text, phone, video conference, or Slack — whatever tool you use, keep the lines of communication open with your team. Forbes suggests treating remote team members like on-site employees and treating on-site workers like remote team members. In short, make yourself equally accessible to both remote and on-site employees.
Above all, make communication easy. Software apps make it simple to stay connected with your team. It's not easy to tell if your remote team members are having a good day or a bad day unless you keep the lines of communication open. Some people prefer email and Slack notifications, while others might want to Skype or chat on the phone. Find what makes your remote teammate happy and give it to them. Shape your team through feedback, so they know what you want, and how to deliver.
Schedule regular face-to-face meetings, either in person or online. Humans are social animals, and we need connection. When managing a remote workforce, it's important to take every opportunity to create real connections.
Set Clear Goals And A Definite Structure
Make sure everyone on your team knows what needs to be done, and how to do it right. Well-defined expectations make everyone's job easier. Hire the right people, preferably employees who have successfully worked remotely before. Clearly outline job goals in advance, including work hours, salary, and anticipated production.
Make sure you've got the right equipment for your remote team, and that everything works as it should. Invest in quality collaborative tools, and make sure everyone uses them.
Remote Team Tools
Fortunately, it doesn't take a ton of equipment or software mastery to manage a remote team. There are, however, some basic tools you will need to consider.
Remote Desktop Tools
A solid remote desktop application, like Teamviewer, allows you to access the programs and files on your office computer in your home. This a must for many remote workers. If Teamviewer doesn't suit your fancy, you can try Microsoft Remote Desktop (RDC), which is free, or Apple Remote Desktop (ARD), which costs $80.
Video Chat
Face-to-face interactions help build trust. Nowhere is this more true than in the world of business. Being able to look at your remote team members in the eye means a lot, both one-on-one and in group settings. Establish a reliable means of video conferencing both groups and individuals with a chat application like Zoom, Skype for Business, or Join.Me.
Task Management
One of the most challenging tasks when working with remote teams is keeping everyone informed and focused on working together toward the same goal. Task management/team management tools can make this a whole lot easier. Monday, Basecamp, AirTable, Click-up, and Slack, are ideal communications tools that will keep everyone on your remote team on the same page, in real-time. Even a simple set-up like a shared Google Drive can get a remote team up and running.
Remote security
Consider having remote employees use a password manager, email encryption, and security software to keep your network protected from hacks and viruses. You may also want to institute a policy discouraging the use of public WiFi or computers.
Be A Coach, Not A Babysitter
If you don't see an employee sitting at a desk working, how do you know the job is getting done? Well, there are old-fashioned ways of doing this like tracking hours worked, attendance, and other basic measures of productivity. But these things never were accurate enough in measuring the actual productivity and real input of an employee. With traditional methods, you rarely can tell the exact value that a given employee adds to your business even if you see them at the office daily. How can you do this with the remote teams? How will you know if remote teams are working without a way to measure it?
Well, it appears that it's not always about constantly monitoring and controlling your team. It's more about the project, tasks, and their completion plus the quality of the work your team delivers. In today's world, it makes more sense to be a coach than a babysitter. Do not try to control every second of your employees, instead learn to trust them and assess their work based on what they deliver in the end.
We're all people with hopes, dreams, and career goals. Find out what motivates your remote team members and try to inspire them as individuals. The internet is a great power and it's the main element that makes remote work possible. However, it heavily depends on how exactly you leverage the power of the internet. If you can align your business mission with the goals of your remote employees, you'll increase the familial feeling among your entire staff and overall business productivity.